Latest CR "Buzz" Cafta Case Report:
World Bank International Court Case: US Investors Sue Government of Costa Rica Under CAFTA Free Trade Agreement for Breach of Treaty Terms and Conditions.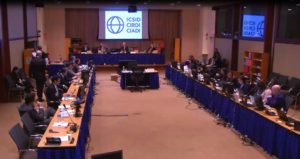 The case is entitled David Aven et el vs the Republic of Costa Rica, ICSID Case No. UNCT/15/3. Videos and information here are from the CAFTA Arbitration hearing held in Washington, D.C. in December of 2016.  A ruling is expected in the first  quarter of 2018.
Costa Rican government officials fabricated lies about U.S. citizens who were developing a beach homes project and charged them criminally under environmental codes, shutting down the project.
These U.S. citizens had received full approvals and permits for their multi-million dollar project from the government over many years of regulatory review and at great expense.  The prosecutor and other officials involved ignored this, and the project was shut down and  the developers were criminally charged without evidence, or proof of intent that a crime was committed.  All of this as done in total disregard to Costa Rica law, and basic human rights.
Here Mr. Luis Martinez Zuniga, a Costa Rica criminal prosecutor stumbles around the CAFTA panel arbitrator's simple questions about intent and why one of the investors was falsely placed on an Interpol Red Notice list.
Watch Video
Attorney and expert witness Nestor Morera testifies that the government improperly charged investors with environmental crimes in Costa Rica without evidence or proof of intent.
Watch Video
Claimant David Aven explains how one corrupt or incompetent government official caused the Costa Rican government to be sued for a huge amount of money under he CAFTA treaty.
Watch Video
Latest scandal from Costa Rica about multi million dollar fraud involving Banco Costa Rica, high level government officials and businessmen.
Watch Video
Squatters in Costa Rica can move onto a property owned by someone else and actually make a claim to it!  In many instances the government does nothing for the owner or at least not for many years.  There are many instances of this.
Watch Video
One of the oldest instances of corruption and property theft in Costa Rica near Los Suenos Resort in Herradura.
Watch Video